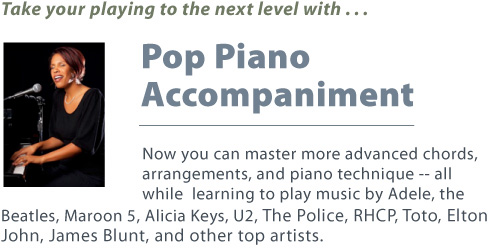 Hi--Bruce Siegel here!
Back in 2010, Play & Sing, my first piano course, went online. As it turns out, that was the beginning of a love affair between DoctorKeys subscribers and the Play & Sing tutorials, one that continues to this day. (See user's testimonials.) To put it mildy, I'm pleased!
But as with all successes, the story didn't end there. Since Play & Sing focuses on the basics, it's understandable that people began turning to me for help with what comes after that course. They'd say, for example, "Thanks for getting me off to such a great start at the piano! So where's the more advanced stuff?" Or, "how about some lessons and songs at a similar level so I can keep practicing what I've learned?"
For a long time it bothered me that all I could say was, "I'm working on it."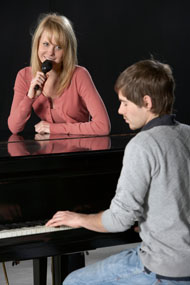 Well, all that changed in late 2014 when my second course, Pop Piano Accompaniment, went online. What was once a spectacular beginners' site, has become something even more exciting.
Picking up where Play & Sing leaves off.
Once again, the emphasis is on accompanying (comping) rather than playing piano solos. As with Play & Sing, note reading is NOT required, though the new course does provide sheet music for those who wish it.
(See The Top Three Myths About Learning to Play the Piano to discover the many educational advantages of accompanying and playing by ear/chords.)
But despite the focus on accompaniment, make no mistake: with my tutorials you can build a foundation in music theory and piano technique that will support you in any direction you wish to go -- whether you want to back up a singer (perhaps yourself), play a Beethoven sonata, or write your own music.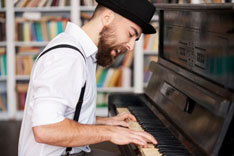 For less than $2.50 per video, this new course is quite a deal!
Pop Piano Accompaniment now contains 11 dynamite tutorials. For a one-time payment of only $30 (NO recurring fees), you will receive:
• Instant access to all eleven lessons for 6 full months.
• Free sheet music, in standard musical notation, of all the styles taught in the course NOTE: as with Play & Sing, note-reading is NOT required, though some students will appreciate having the sheets to refer to.
CLICK HERE TO PREVIEW ALL 11 LESSONS.

If you're ready to subscribe now, CLICK HERE. Or, read on to learn more.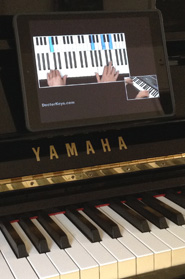 Like Play & Sing, Pop Piano Accompaniment is not just a collection of great tutorials, but a step-by-step course.
Thanks to my experience as a private teacher of beginners through professionals, Pop Piano Accompaniment is extremely user-friendly. From first lesson to last, the level of difficulty increases gradually without ever being overwhelming, and the many stylistic options presented will make it easy for you to create arrangements to suit your taste and level.
Lessons 1-3, for example, are just a tad more complex than the last lessons of Play & Sing. These videos review what you already know, while offering new progressions, new songs, and slightly more difficult arrangements, with a few harder styles thrown in.
I teach you not just what to play, but how to play.
Ever notice how most piano tutorials show you what notes to hit, but offer no advice at all on the purely physical aspects of playing?
DoctorKeys is different. Expert guidance on piano technique is woven right into the lessons. This includes fingering, as you might expect, but also what I call "whole-body technique" -- how to use your wrists and arms (together with gravity) to assist your fingers. DoctorKeys students develop a relaxed, efficient, expressive, and pain-free way of playing that is ideal for all kinds of music from pop to classical.
Here's what people are saying about my tutorials:
YOU ARE SO CLEAR . . . HAVING HEAPS OF FUN
I am an absolute beginner with no musical experience but a lot of will!  I was getting overloaded with trying to learn to read music and all the technical information and then I found your site.  You are so clear in your presentations that I am actually starting to get it, and having heaps of fun along the way.
Thank you so much for the great lessons that you have provided . . . Your love of piano and teaching shine through.
I would like to purchase your more advanced course as well. 
With kind Regards,
Lynette Cosgrove
I CAN'T SEEM TO TAKE MY HANDS OFF THE PIANO!
This is a happy mail from a thrilled student of yours!
About two years ago I bought an old Clavinova from a friend who was moving abroad: I've been wanting to play the piano for so long!!
But despite now having a keyboard at my place, and bits and pieces of music theory collected from the internet and from my guitar self taught practice I somehow couldn't really play: that was SO frustrating.
Repeatedly I started tedious hand exercices but quickly bored out.
I was so sure that it COULD be simple and logical (and pleasing). I searched around, I asked around but couldn't find out an explanation nor methodology that would have suited me or seems to make sense.
Then I found YOU! and your website. I have to say that your lesson path is truly empowering AND joyful.
I'm now practicing effortlessly. I can't seem to take my hands off the piano! (well, I did, so I could write this happymail to you to say how grateful I am)
You're a great great teacher! Thanks a lot for putting it all together and thus allowing me to play music. At last!
All my best regards and wishes,
Aurélie Blard-Quintard
VERY EASY TO UNDERSTAND
Hi Bruce, I would like to thank you for offering a site that finally teaches how to accompany yourself on the piano in a very easy to understand way.
--- L. Dean
AMAZINGLY USEFUL AND CLEAR
I did it. I am taking your course! It is really amazing and amazingly useful and clear. Thank you very much.
Why is it so difficult to find tutorials about how to play accompaniments? Most video-tutorial teach you how to play pieces that include the main melody in the right hand... they don't teach you how to accompany the voice.
Thanks again for the amazing course.
--- Manuel Ruberto
THANK YOU AGAIN!
Can't tell you how much I'm enjoying your lessons, Bruce. Your clarity, gentle manner, voice are just some of what I appreciate.
Your videos are so beautifully produced . . . You make it look and sound easy or, at least, do-able. Thank you again!
--- Bob Novickas
THIS IS A BLESSING FOR ME . . . I HAVE MADE AMAZING PROGRESS
Bruce,
I chose you as a teacher because of your gentle and simple approach, practical and profoundly powerful. I have watched many people on U tube and the internet who call themselves teachers. After just a couple of weeks taking your first course, I have made amazing progress. You are responsible for me learning.
This is a blessing for me, to be taking your courses and learning to sing while playing the piano.
Thanks for being who you are, for your patience, your talent, and most of all your amazing ability to teach others like me who are starting to awaken that magical and soulful part of life that is music!!!!
With great respect,
Your Student George Martin-Mauser
VERY PRACTICAL WITH IMMEDIATE BENEFIT
The lessons I've completed so far are some of the very best available online – very practical, with immediate benefit. You are the best on the net my friend.
--- Warm regards,
Nick Covelli, Austin TX
Such CLEAR CONCISE Instructions!
you are AMAZING! Such CLEAR CONCISE Instructions, and they carry SO much WEIGHT! I've never played piano but I'm gonna pick this up within one and two days! Thank you
--- Lord Wispa
I'VE CHANGED PIANO TEACHERS MORE THAN 4 TIMES
I'm from Indonesia, changed piano teachers more than 4 times since I started and none of them gave things like your lessons. Thank you very much!
--- Scarnark
SO EASY TO FOLLOW
Thank you so much. I am just a beginner and your videos are so easy to follow. You are terrific to watch and listen to. What a player!! Thanks again.
---Gisela Moller
I'M LEARNING SO MUCH
OMG you are a fantastic teacher!!! I am loving your videos and learning so much...thank you so very much.
--- Annie Wilson
A PIANO TEACHER FINDS INSPIRATION
Thank goodness for your new site, Bruce. Just tonight I interviewed a beginner (13 yrs old), a girl with a beautiful singing voice who writes her own songs, so I used my newly stolen knowledge from DoctorKeys and introduced her to chord playing to accompany herself.
Your teaching ideas, videos, thoughts, everything, are such an inspiration for my own teaching and students. Thanks!
--- Julie Cleveland, subscriber and piano teacher in Gloucester, MA
IN A FEW HOURS I HAVE THE PLEASURE TO BE ABLE TO PLAY AND FEEL THE MUSIC
Your teachings and videos + blog have brought me back to the True desire to play Piano/organ.
I have cried, because my Mom spent earnest monies to have me learn...(7 years). And I don't remember a thing!
With you, in a few hours I have the pleasure to be able to play and FEEL the music she wanted me so much to express. She would have been sooo happy if only she was here to hear it!
Thank you very much! And even more than that!
All the best,
David-Jean
P.S. I live in France and am French.
A THOUGHTFUL, WELL-PLANNED & PRESENTED APPROACH
I'm an old guitar & fiddle player. I've played music for decades, and never felt the need to read music. So when i started playing piano in June, i simply approached it by learning chords. I felt quite alone in my approach until i found your work. You confirmed everything. If i could convey the ideas and create a thoughtful, well planned & presented approach, it would look like yours. Now, when somebody asks me about piano, i send them your way.
--- Fiddlenguy
NO ONE EXPLAINS AND SHOWS THE HOW-TO'S BETTER
Bruce, I am so excited about your piano course.  It's just what I've been hoping and searching for a long time. No one explains and shows the how-to's better than you.  Thank you, thank you!
--- G. Kimmel
I'VE BEEN PLAYING PIANO FOR TEN YEARS NOW
I'm 16 and have been playing Piano for 10 years now and I think i've picked up some bad habits throughout the years! So I decided to look on youtube in search of piano playing techniques to improve my playing. This video was very clear and helpful, so thank you :)
--- Jennifer Lee
I SEARCHED FOR HOURS
I searched for hours for a good tutorial for this song and yours was by far the best and easiest to follow! Thank you so much.
--- Vic M
(Vic is referring to the Ode to Joy tutorial, which is a free bonus offered with Play & Sing.)
WITH NO KEYBOARD EXPERIENCE, HE MASTERS BLUES SHUFFLE STYLE IN TWO WEEKS
AWESOME. I can't get over how great this lesson is. Finally a way to start working the hands together at a level where one can learn this stuff.
I've practised this 10 mins to half an hour every day, having absolutely no experience with any sort of keyboard whatsoever, and it took me about two weeks to play it just about flawlessly.
Guess you picked just the right level and structured pace to make the perfect lesson.
Cheers from Copenhagen, Denmark.
--- LackadaisicalE
PANDORA ARTIST BENEFITS FROM TECHNIQUE VIDEO
I'm working on a new CD . . . I just went back to the piano and re-practiced the lessons you taught in the Whole Body Approach video. I remember you teaching them to me in my first visit or two with you. Really great stuff, Bruce. Your teaching has definitely impacted my playing a lot."
---- Roth Herrlinger (pianist and composer)
WHY DIDN'T MY PIANO TEACHER TEACH ME LIKE THIS 30 YEARS AGO!
Excellent stuff - just the inspiration I was looking for. Why didn't my piano teacher teach me like this 30 years ago!
------ 101x997
"IMMENSE ENJOYMENT"
Hi Bruce. As someone who can play at a very high level, you have been able to teach people in simple terms how to get immense enjoyment by simply sitting at a piano and making music.
--- Kenneth Porter, Australia
I LEARNED SOOOOOO FAST
DUDE. You are the best piano teacher I have heard, seen. I learned soooooo FAST. And I was so concentrated.
--- Juan Melgar
MY GRANDDAUGHTER IS REALLY THE ONE TAKING THE LESSONS
Hi Bruce:  I am going to call you "Almighty Bruce".  Thank you very much for your help !!!  I'm already enjoying your website next to my granddaughter who is really the one taking the lessons.  Again, thank you!!
--- A. Bolet
IT IS AS IF THE STUDENT IS ACTUALLY SITTING AT YOUR PIANO
Thank you for your continued commitment to provide online lessons that have been extremely helpful for a beginner such as myself. Also wanted to comment on your video camera placement. It is as if the student is actually sitting at your piano. This is the only online training series that has that level of clarity and perfect visibility.
--- R. Pelletier
YOUR METHOD OPENS DOORS AND UNDERSTANDING
Your Accompaniment Styles session is very impressive - It is the area of performing that I struggle with. I like your method of presentation and truly appreciate your input and expertise - it opens doors and understanding.
--- Bill H.
I'VE BEEN STRUGGLING TO LEARN HOW TO PLAY PIANO ACCOMPANIMENT . . .
This is excellent!!!!
I've been struggling to learn how to play piano accompaniment and this vid just helped me a lot. Thank you so much for uploading this awesome vid :))))
-- NickMKII
I HAVE WATCHED DOZENS OF YOUTUBE TUTORIALS . . .
This is a great video. I have watched dozens of YouTube tutorials and this is the first one I have come across where someone actually shows you slowly how to put your hands together. I can play from a fake book, and I am always trying to learn and improve. I hope you will share more videos like this. Great job.
-- The Yannifan
I DID NOT REALIZE IT WAS POSSIBLE . . .
Bruce, I did not realise it was possible to play a sequence of chords with minimal hand movements. It makes a change from having to think "Um...right...where is my hand going next ?" It kinda breaks the rhythm having to do that :-) Thanks for taking the time out to put together such an easy to understand and helpful tutorial!
--- fastLane500
HELPFUL, CLEAR, JUST PERFECT
Excellent teaching indeed. Helpful, clear, just perfect. Thumbs up! :)
---cornrootworm
IF OTHER SITES TEACH THIS, THEN IT'S NOT THAT CLEAR
I like what you show in your "whole body" (piano technique) video – the clarity of it, and how you break it up.  I also like the "accompaniment" video, for the clear explanation of chords – the practical way of using them, the building of the lessons, and showing HOW it is done.  If other sites teach this, then it's not that clear.
--- Maxi S.
More testimonials here.
***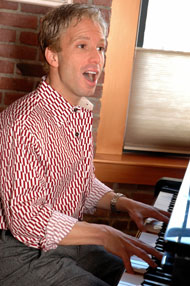 Subscribing to Pop Piano Accompaniment is easy.(Subscribe button just below.)
Pop Piano Accompaniment now contains 11 exciting tutorials. For a one-time payment of only $30 (NO recurring fees), you will receive:
• Instant access to all eleven lessons for 6 full months.
• Free sheet music, in standard musical notation, of all the styles taught in the course. NOTE: as with Play & Sing, note-reading is NOT required, though some students will appreciate having the sheets to refer to.
A guarantee.
I'm confident that my videos can help you gain exciting new insights and abilities—not to mention how much you'll enjoy playing and singing the songs you'll learn. But if for any reason you're not happy with the lessons, just send me an email at Bruce (at) DoctorKeys.com (use standard email address format), and I'll refund your $30, no questions asked.
Subscribing is safe and simple.
TWO EASY OPTIONS: Click the "Subscribe" button below to pay with your credit card through PayPal. OR: click on "Subscribe by Direct Credit Card" below this button.
Privacy Policy & Terms of Use.






Subscribe By Direct Credit Card (Secured by Stripe)


You can also pay by check or Western Union.
Note: If you use one of the following methods, be sure to include your email address and the name of the course you're signing up for.
• Make a CHECK for $30 payable to Bruce Siegel, and mail it, along with your email address, to the address below. I'll activate your membership as soon as I receive it.
Bruce Siegel
12959 Short Avenue
Los Angeles, CA 90066
• You can transfer money using WESTERN UNION. This is specially useful for folks who don't live in the U.S. Make your payment to Bruce Siegel, and use my address above. Click here to pay via Western Union.
I'm here for you.
I want you to be thrilled with your experience here on DoctorKeys, and I look forward to helping you in any way I can. Please feel free to contact me at Bruce (at) DoctorKeys.com (use standard address format) with your questions and comments. I usually return emails the same day.
--- Bruce Siegel